The week-end brought at least 26 fires to the Sierra between Mono Basin and Mt. Whitney. The largest – in the Bishop Creek drainage in the upper foothills of the Sierra, called the Fork Fire. At last word, that blaze was 20% contained. Increased humidity helped the firefighting work. Over the week-end, campers and some residents were evacuated.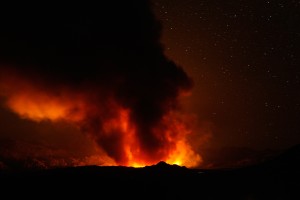 At last report, the fire had burned more than 2,000 acres. John Louth of the Forest Service said that 8 air tankers have dropped retardant on the fire, 100 hand crew people continue to fight it, along with 7 engines and additional crews from out of the area. It is believed local fire departments worked on the various blazes, too. Louth said the fire burns in the upper foothills, above the Big Trees campground in a northwest direction, turning south to southwest Sunday afternoon.
(Photo: Jon McConachie)
On Saturday, the Inyo County Sheriff's Department evacuated four campgrounds. The County opened a temporary shelter at the Home Ec Bulding of the Tri County Fairgrounds, which switched to the Elementary School on Sunday. Also on Sunday, officers evacuated the Aspendell community after the wind had started to drive the fire in that direction. Authorities have closely watched the residential area of Starlite, as well. The Sheriff's Department implemented a voluntary evacuation from Starlite when fire burned visibly three ridges away.
Louth said that lightning started 26 fires on the forest over the week-end. Most of the fires are small and in single trees. However, the Spook Fire above Division Creek grew to about 10 acres, and a fire on the north side of Glass Mountain consumed 175 acres at last report.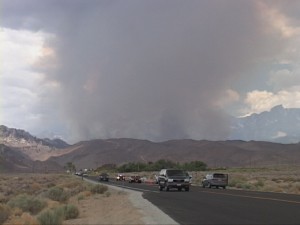 Louth emphasized that wind plays a huge role in these fires. The weather systems that moved in have determined the direction and intensity of the mountain fires.