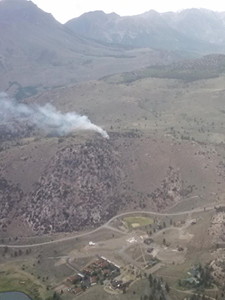 UPDATE:
7-17 – Good morning all: As of the this morning, there are no substantial changes to report. The Park Fire remains approximately one acre and staffed at this time. The Pumice Fire is about ½ acre and will also be staffed today. All other lightning fires are 1/10 of an acre, are contained, and in patrol status.
The forecast calls for more wet weather and lightning today.
(USFS press release) There have been multiple lightning-caused fires today. Crews are responding. None of the fires are larger than an acre at this time and many of the thunder cells came with rain.
The Park Fire, near June Lake is approximately an acre and the smoke is highly visible from June Lake. Crews are hiking into this fire since aircraft has been grounded by the weather.
Additionally, the Pumice Fire (approximately one acre)  and the Eagle Fire near Green Creek are also showing visible smoke.
I am attaching an aerial photo of the park fire taken on a reconnaissance flight.
Deb Schweizer
Public Affairs Specialist
Inyo National Forest