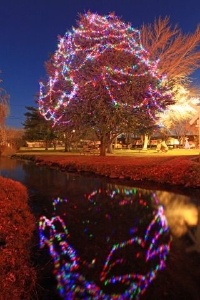 MAMMOTH LAKES CHRISTMAS TREE LIGHTING – Dec. 6
Time: 5:30pm
Admission: Free
Footloose Sports Parking Lot
Welcome in the festive season at the official Town of Mammoth Lakes Tree Lighting Ceremony in the Footloose Parking Lot. Enjoy hot chocolate and yummy treats, sing along to your favorite carols, and stay warm and toasty around the many fire pits.
BISHOP CHRISTMAS TREE LIGHTING CEREMONY – Dec. 6
Bishop City park
Starting at at 5:30pm with Live Music & Entertainment, Visit with Mr. & Mrs Claus 4:30 until 6:00 pm at the Bishop Chamber of Commerce. See the lighting of the City Christmas Tree.
The Street of Lights
Following the Tree Lighting, take a stroll downtown to get an early start on Holiday Shopping. Many stores open late, live music, fire rings and fun! Have your street of lights map stamped to be entered into the huge raffle. Grand prize is $500 cash – sponsored by Alta One Federal Credit Union.
For Businesses: If you would like to participate, please call April Leeson (760)873-8405.
On Saturday morning at 10 am, find a spot along the Maint St. in Bishop to see our annual Christmas Parade! The parade route begins at South St. then heads North to the Bishop City Park. Live band, local schools, local charities, or just locals, compete for a trophy in one of many catagories.
After the parade meet up with Santa and his elves at the city park gazebo, and tell him your Christmas wishes! This Santa visit is hosted by Altrusa of the Eastern Sierra and kids will get free books, candy canes and toothbrushes!
INDEPENDENCE TREE LIGHTING – DEC. 7 
The public is invited to help usher in the holiday season by singing traditional Christmas carols and helping to light the Independence Community Christmas Tree on Saturday Dec. 7. Gather at the Eastern California Museum, 155 N. Grant St., at 4 p.m. for holiday treats and drinks and arts and crafts. Starting at 4:30 p.m. the group will stroll through town caroling, ending at Mary Austin Park to light the Community Christmas Tree. For more information, call 760-878-0258.
December 9th – Independence holiday fun
Sponsored by the Independence Civic Club
Courthouse, Main Floor, Independence
Cookies and cider at 6:30pm with a Santa's elves wrap session
JUNE LAKE CHRISTMAS TREE LIGHTING – Dec. 14
Sponsored by June Lake Chamber of Commerce June Lake Loop Women's Club
3:00 PM June Lake Chamber Mixer at Sierra Crest Realty Free hot chocolate and refreshments Greet old friends and meet new ones
5:00 PM Begin the caroling at Sierra Crest Walk through town with the 'Snowflake Carolers', laughing all the way! Bring bells and flashlights
6:00 PM Tree lighting with special guests. More carols Bonfire Apres tree lighting. Pizza at Sierra Inn.