Press releases
Leash Your Dog – It's the Law
Mammoth Lakes, CA – The Mammoth Lakes Police Department would like to remind citizens that the Town of Mammoth Lakes has several ordinances to keep their animals and the public safe. The Mammoth Lakes Police Department has responded to an increasing number of dog-related incidents and may issue citations for dog owners in violation of the following ordinances: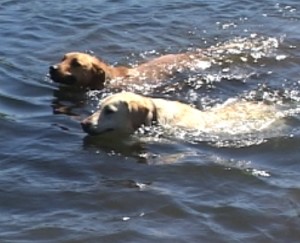 MLTO 6.12.010 License (Required) – If you live within the Town of Mammoth Lakes limits the owner of any dog over the age of six months shall procure a town dog license and pay thereafter an annual license fee for each dog.

MLTO 6.12.210 Dog at large – It is unlawful for any person owning, harboring, or having the care, custody or possession of any dog within the town limits of Mammoth Lakes to allow such dog to run at large. All such dogs shall be kept securely fastened by a chain, rope or leash unless securely confined within private property legally controlled by the person in possession of the dog. Further, any dog off the premises of its owner, or the person charged with the care, custody or possession of the dog, shall be presumed to be at large unless it is securely fastened to a rope, chain or leash not exceeding six feet in length and is under the immediate physical control of a competent person.
Pet ownership comes with the responsibility of humane care and management of their animal, along with a legal obligation as well. A dog owner is liable for a victim's injuries if their dog bites and injures the victim.  Additional ordinances regulating the responsibilities of pet owners can be found in the Town of Mammoth Lakes Municipal Code (https://library.municode.com/ca/mammoth_lakes_/codes/code_of_ordinances).
###
Dog Licensing Clinic
Mammoth Lakes, CA – On Saturday, June 17, from 3:00 to 4:30 PM, the Mammoth Lakes Police Department will be renewing Town of Mammoth Lakes dog licenses for the upcoming fiscal year and offering discounted vaccinations and microchipping. Dr. Gaylon TeSlaa and the staff of Alpen Veterinary clinic will be on hand with low cost vaccinations and microchipping for both dogs and cats.
California law requires all dogs over the age of 4 months to be licensed and vaccinated against rabies. If you live within the limits of the Town of Mammoth Lakes, you are required to license your dog.
If your dog does not need a rabies update, you may purchase just the required license – $20 if your animal is spayed/neutered; $50 if they're unaltered. Please bring proof of spay/neuter and current rabies vaccination (if applicable). Discounted microchipping will also be available for $10. If you are paying by check and will be purchasing a license and vaccinations, please remember that you will be paying two separate bills.
For everyone's safety, your dog must be leashed and your cat in a carrier. If your animal doesn't do well with others, please leave them in your car until you complete the paperwork and the vet will come to your vehicle to administer the shots.
You may now purchase 2017-18 TOML dog licenses at the MLPD Business Office Monday through Friday, 8 AM to 4 PM. Please bring proof of spay/neuter and current vaccinations.
For further information, contact Hannah DeGoey at (760) 965-3702 or [email protected].