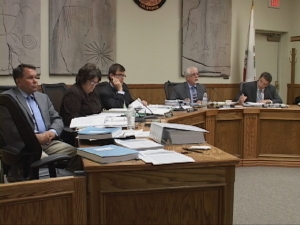 Tuesday, the Inyo Supervisors will consider restructuring of the County Library and Museum departments.
Members of the public continue to return to the fact that County officials approved more than $2 million in employee raises without the funds available to pay for them. The County Administrator maintained that the workers were due these increases. In the wake of all that, officials now look hard at how to save dollars to balance the budget. The latest proposal comes from Deputy County Administrator Pam Hennarty. She proposes four options – one of which would eliminate either the Library or the Museum Director with one of them overseeing Libraries and Museums. This items were scheduled to come up at 1:15pm.
Library Director Nancy Masters has two of her own recommendations – one would spend $167,000 more than last year when the County reduced her employee budget by 27%. This "roadmap" plan for full-coverage staffing includes updated job duties, titles and pay. The Librarian's second "budget plan" would make no savings but no more costs, even with updated job duties, titles and pay increases for all staff. There would be a reduction of 22 hours per week, although it would abide by an MOU with the County Superintendent of Schools to keep the Libraries open one or two nights per week with extended hours Saturday. The Museum cost of just over $200,000 per year would stay the same.
The Deputy CAO then presents four Service Redesign options, which all include Library closure on Mondays. The first option would keep 2013-2014 funding levels the same and begin to reorganize the Library and Museum departments with employees who could work for both departments. This plan would save $6600 out of Libraries. The Museum cost would stay the same. Officials would work with the unions to cross-train employees to cover both Libraries and the Museum.
Service Redesign Options Two and Three would further reduce staff and combine duties of Library and Museum with new or existing workers. These options would cause Museum hours to be reduced from seven to five days per week. Option two would save $87,000. Option three would save $47,000. Option Two would cut costs in the Library and Museum. Option Three would cut the Library but add money to Museums.
Option Four would combine the Library and Museum Departments and do away with one of the Directors. This option would save $147,000. Librarian Nancy Masters points to the growing importance of library services for access to the internet and educational opportunities that otherwise would not be available to a number of citizens. In hard economic times, people rely more on the libraries for education and information. She also pointed to the importance of the Museum and its documentation of Owens Valley history and availability to the public.