Lewis Lloyd Roberts was born in Inglewood, CA on November 9, 1968. He was brought into this world by his mother, Rosalie Roberts and father, Lewis Roberts Sr. He left us September 22, 2016.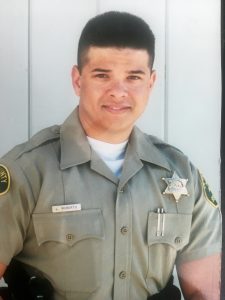 Lewis grew up in Orange County, CA where he graduated high school, went to the police academy and began his work as a peace officer in his hometown of Cypress, CA in 1997.
Growing up, Lewis often came to Bishop to camp and fish at Rock Creek where he later shared with his family.
Because of his love for the area, Lewis moved to Bishop in 1999 and joined the Sheriff's Dept. He worked for the sheriff's department for several years before he got hired as an investigator for the DA's office in 2002.
In 2006, he got promoted to Chief Investigator. He was very proud of his position and took great pride in his work and profession.
Lewis and Kristina were married in 2001, and shortly after decided to start a family. In 2002, Lewis and Kristina welcomed their beautiful baby girl, Alyssa Rose into this world. Wanting to further expand their family, they had their second child, Tanner James in 2006.
Lewis was working on finishing up his degree in Business Management which he did so from the University of Arizona in 2008.
His entire life, Lewis always had a great passion for hockey which he played and was also a dedicated coach for several years. He loved coaching kids and was his happiest and proudest at watching his own children play and learn the game.
He was an amazing father and loved his two children with all his heart and soul. They truly were the greatest loves of his life and he did everything he could to be a dedicated and supportive dad.
He is preceded in death by those above as well as brother, Steven Roberts who he was very proud of and who is following in Lewis's footsteps of being a police officer and sister, Sherri Roberts who he also loved very much and was very proud of.
He has many family members and friends who he will be dearly missed by. Lewis was a great man and we miss and love him dearly. May he rest in Peace.
Services will be held 11:00 am Saturday, October 15, 2016 at the Church of the Nazarene, Bishop, CA.