Lewis Gene Ebersole, a Bishop resident for the last 29 years, was born in Harrisburg, Pennsylvania, to Melvin Lewis Ebersole and Katherine Hershey Ebersole. At home he began his life-long passion for books and had an almost photographic memory for what he read. He died Friday, February 6th, at Northern Inyo Hospital after a brief, intense illness.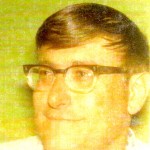 His ambition in life was to be a forester, and he earned a degree in forestry from Paul Smith's College in New York. After graduation he was drafted and chose to enlist in the Navy, where deep-water adventures suited him. He developed a passion for travel, made life-long friends and enjoyed the work. His vacations during those years often were on the water. He raced small sailboats, crewed for larger boats in ocean-going races and leisurely sailed on three-masted schooners.
In 1974 Lewis retired from the Navy, earned a degree in electronics and worked for twelve years in the electronics industry in San Diego. During those years and after moving to Bishop, he actively pursued his passion for travel. He hiked in the Alps and in mountain ranges from the Adirondacks to the Sierras and Cascades. He rode his bicycle throughout the western United States and Canada, culminating in a ride from the Atlantic Ocean to the Pacific Ocean.
When physical disabilities prevented athletic touring, he became a beekeeper and gardener. He resumed a life-long enjoyment of music, attending dozens of Felici Trio concerts and driving frequently to Reno to see and hear Metropolitan Opera performances in high definition. Lewis continued to explore the world as a passenger on several freighters, on river cruises in Europe and by ferry up the Inland Passage.
He is survived by Geraldine, his wife of 45 years, his sister Sandra Sheridan (Greg), his sister-in-law Nila Treston (Steve) and his sister-in-law Helen Kashevaroff (Mark). Nieces and nephews lovingly remember their Uncle Gene for his stories, his vast store of knowledge and quick recall, and his generosity. May Lewis Gene be at peace in Fiddlers' Green, the final resting place for men of the sea.