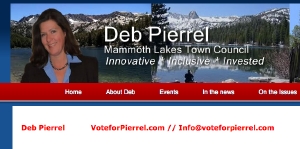 I have known Deb Pierrel for 14 years, in fact I meet Deb the first day she came to town. She is a very dedicated and sincere person and is very passionate about Mammoth Lakes.
I was very disappointed to see the editorial in the Sheet last week from an anonymous source making accusations.
Are we that desperate as a community to have to resort to such tactics? Will the Sheet be running a column to discusss all of the candidate's personal issues?  Or other prominent figures & or companies who have impact in our community?  Maybe it could include all the candidates running for all offices in Mono County. That would give us a running column for the next 17 or so weeks. Maybe call it the financial expose' for Mono County candidates.
How about we report on the positive:  Town clean up day, Tioga Pass opens early, bus tours are here the first week of May, summer should be "The best summer ever", Pam Murphy 40 Years with Mammoth Mountain.
The sad part about all is that we, as a Community, are destroying ourselves.   We have citizens polarized on topics, calling corporations names, people attacking new developers and pointing nasty public fingers with name calling to our regional constituents. We also have some local tabloids not reporting news that they do not agree with. We are destroying ourselves from within. This type of behavior is out of control and will lead us nowhere.
I have decided to Vote for Deb Pierrel on June 3rd for Mammoth Lakes Town Council.
John T. Vereuck