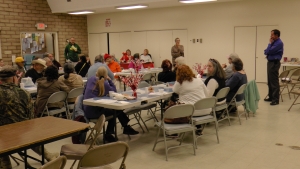 Re: Letter to Sierra Wave News regarding Inyo County Senior Meal Programs Current Proposals
Dear Inyo County Seniors and those who "Serve" them as Public Servants:
Years ago and for many years following,  as a member of the Inyo Mono Area Agency on Aging (IMAAA) Advisory Council we were often confronted with the high costs of providing senior center and home-delivered meals to seniors.
Former Director of IMAAA at the time of annual Plan renewal continued to state that the entire organization's (IMAAA)position as having an established priority of "food first".  In other words, cuts and reductions would always be made elsewhere, if necessary, in other senior program services. (i.e. transportation, staffing, other conservation methods).  IMAAA  always  retained and supported the identified importance of nutritional meals for local seniors in all of Inyo County, including those in our most remote areas.  The full IMAAA Advisory Council and Governing Board during those 12 years or longer, based that priority on both local surveys and the vast experience of a score of years that the meals provided seniors with a hot nutritional meal and, almost as important, social contact.  Relying on those same surveys the highest need for seniors was to combat isolation that often comes with aging and rural areas along with the identified associated problem of depression, including suicidal and substance abuse tendencies of lonely seniors.  In years past, IMAAA looked at ways to increase donations for meals and services but with the continuing fixed incomes of most seniors which do not even reach the inflationary increases to their daily living expenses this became difficult – not impossible but less constructive.
The new program administrators of the senior programs have enjoyed raises and increased funding for their administering of these crucial and critical services.  It would behoove those in decision-making positions to look for other ways for savings rather than removing, as stated numerous times recently, sometimes the only human social contact some seniors have as well as nutritional meals.  Additionally, there was a time when the meal service delivery staff was trained to spot significant behavioral changes of home-meal recipients which actually could lead to what could be considered life-saving steps for them. (I.e. abuse, neglect, depression).
My statement is offered from my continued dedication to the many Inyo and Mono seniors and in no way reflects any bias based upon prior contractual associations. That is, as many know, I had the privilege and honor of being an advocate to seniors under the legal services contract and active member of the advisory council from 1985 – 2012.  It is with high hope that the senior programs meal service will remain intact and that a dawning of more appropriate savings techniques will appear soon.
My best to all,
Jennifer Duncan
San Diego, California