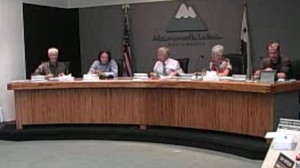 Sierra wave,
I read your September 23, 2013 posting and I thought that maybe you had added a comic section to your news. The specific post was your quotes of Mayor Rick Wood. It read like the funny papers in the LA Sunday Times.
The Mayor said that the dump site would be very public and transparent. So when would that be? The land has been in secret discussions for the past 6 years. Also there is a secret fee that has been collected and transferred   to the TOML.  When will the Council be transparent? After the deal is made? Will we be able to view the options such as other locations, joint venture with the County? How about costs? Will there be more special secret fees that the rate payers must pay? What is the specific purpose of these fees?  Let's have transparency NOW.
The town has had "an extraordinary couple of years", but what is the reason, why did the Mayor not explain some of the reasons?? By MMM leaving we no longer have any checks and balances in our Town Government. We now have the same old way of governing.
Tom Cage, are the Voters to believe that a citizen thought up this idea and approached TC?… Oh…OK. And if so where was it in/ on the agenda?
So keep the quotes coming and I hope the Town will be laughing next June.
John T. Vereuck, Mammoth Lakes