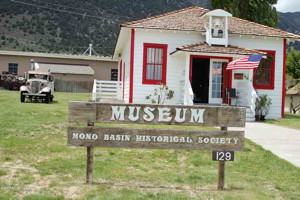 Dear Sierra Wave Media,
Last week you ran a Tradio request for the Mono Basin Historical Society seeking items for our old schoolhouse museum in Lee Vining. We were delighted when a donor responded to our request for a school blackboard, especially because the two slate boards donated were originally used in our very schoolhouse!  We understand the boards were moved to a school in Benton and then were at a residence there for years.  A fantastic find.
We are still seeking a mannequin or dressers dummy suitable for a man's baseball uniform.
The exhibits in the Mono Basin History Museum and our artifact collections relate to all of our local history, but a corner devoted to the area's historic schools — the original purpose of the building — is now being reorganized with old desks, school books and high school annuals, class photos, a 1921 USA pull-down map, a 48 star classroom USA flag, and other items about that particular story in that very appropriate setting.  Another donor, hearing our call for donations, even came up with a very old box of crayons to add to the campaign.
We appreciate the help given by KSRW.  The Mono Basin History Museum will close for the winter later this week, but work will continue behind the scenes as we prepare to open again next May.  The Historical Society does meet with public meetings all year with free programs at most meetings.
www.monobasinhs.org     [email protected]          760 647-6461
All the best,
David Carle
President, Mono Basin Historical Society
personal contact info:
[email protected]
760 647-6431