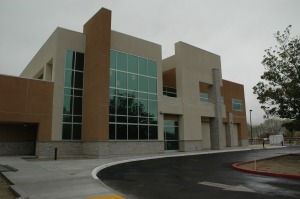 JUNE AILIN SEWELL
3457 Beethoven Street
Los Angeles, CA 90066
Victoria Alexander-Lane
Northern lnyo Hospital
150 Pioneer Lane
Bishop, CA 93514
Dear Ms. Alexander-Lane:
On Tuesday, September 9, 2014, at about 10:00 a.m., I was on vacation at Hunewill Ranch in Bridgeport, California when I fell off of a horse cantering at about 15 miles an hour. Because the CT scanner at the hospital in Mammoth Lakes was out of commission, I was transported to Northern lnyo Hospital. What followed was the best experience with a hospital I have ever had (and I've had enough experience with other hospitals to have quite a bit to compare it with). In fact, the whole experience was a testament to the entire town of Bishop, as many people helped us deal with my accident and the related fallout.
I was brought into the emergency room by ambulance, x-rayed, CT scanned and so forth. My injuries were a broken collarbone, multiple fractured ribs, a left lung pneumothorax and a tear in my diaphragm. Nurse Lori (caring with an incredibly gregarious personality) and hospitalist Dr. Joy Engblade (clearly rock climbers totally understand these types of injuries) took charge of my care. Dr. Clark (a totally awesome and wise physician) came in from his home and set a chest tube. The diaphragm tear wasn't large and wasn't causing any immediate problems, so the decision was to let it be and plan for surgery when I was in less distress from other injuries. By 6 p.m., I was in the ICU, where I spent a couple of days with nurses Cindy and Ryan. Cindy helped my husband figure out how to turn the chair in my room into something like a bed and he spent the night in the room with me. Her and Ryan's attention to detail and constant attention to my comfort and care over the next two days was amazing and much appreciated.
I spent most of Wednesday sleeping. But consistent with my own desires to get moving again (even though I was incredibly stiff and every movement took concentrated effort), even in the
ICU I was regularly visited by the physical therapists and respiratory therapists whose job it was to help me get moving again. Despite the heavy traffic of the hunting and fishing season, your staff was able to get my husband a room at the Holiday Inn Express. The manager there was extremely sympathetic and helpful over the next several days.
After two days in the ICU, Dr. Clark removed the chest tube and I was transferred to the medical/surgical unit, where nurses Ryan and Jane continued to help with taking care of my basic needs and the physical and respiratory therapists continued working with me.
I discovered the benefits of being at a small rural hospital — I was priority number one in the ER, with no competition from the numerous heart attacks, gunshot wounds, car accidents and the like that would have taken priority over my injuries in a big city hospital. Most of the time I was in the ICU, I was one of just two patients in the unit. And so many of the staff ride and have horses of their own, no one thought what I had been out doing was crazy — they have experienced their own involuntary dismounts and totally understand the urge to get back on the horse. I'm told I was known among the staff as "the horse lady"!
Everyone on the staff was extremely sympathetic, caring and professional. My early efforts at getting back to normal were cheered by everyone and that support also bolstered my husband Scott's spirits as well, as he was trying to cope with my problems and also retrieve our belongings from Bridgeport. Actually, on Friday, he felt so confident in the capacities and competencies of Northern lnyo, he returned to Hunewill to retrieve our saddles and spend a final day riding and dining with our fellow guests (and passed the word about my condition and the fine care I was receiving).
By the time I was discharged from the hospital on Saturday, I was able to get myself into our pickup truck for the long ride home to Los Angeles. The discharge planner and the folks at Air Way Medical had arranged for a portable oxygen generator for my trip home, as I had been advised to remain on oxygen to ensure I was breathing well and with as little pain as possible.
By the time I returned home, my primary care physician had been brought up to date on my condition by Dr. Engblade. When I saw her a few days after I returned home, my primary care physician said she had had many patients have medical problems away from home, but she had never received as detailed and thorough a transfer report as Dr. Engblade provided. As a result, I had follow up visits with the necessary specialists at home within a few days after my return.
A month down the road, I am off oxygen during the day and starting to take short walks around the neighborhood. My pain has been well-controlled and I'm starting to work on getting off the pain medication. I am working part-time from home. Later this month, the surgeon is going to pin down a date for the surgery to repair the tear in my diaphragm. And I'm planning a return to horseback riding in January.
I wish I could remember the names of everyone who worked with me at the hospital, but I can't, so I thought I would write this letter to let everyone know how much I appreciated the care and help I received. My husband and I were totally impressed with all of you. And I also wanted the person in charge to know what a great experience we had with everyone at Northern lnyo Hospital and to applaud you and your staff for running an excellent hospital in location where I am sure it is very much needed, for the local community as well as for recreational tourists like me. Keep up the good work!
Very truly yours,
June Ailin Sewell