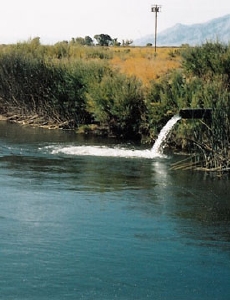 It is a new century between us, the Owens Valley and Los Angeles. How shall we proceed? Mayor, Eric Garcetti is calling on Los Angeles residents to sign a pledges to fix both the LA River (http://www.lamayor.org/restore_the_la_river) and the DWP (http://www.lamayor.org/fix_dwp), he is also asking residents to submit suggestions about what needs to be done in their neighborhoods. I am sure that those of us in the Owens Valley can give him good many suggestions about what needs to be done in our neighborhoods and sign on to both pledges. I have signed both petitions and have offered comments on how the Mayor can assist our communities here in the Owens Valley. I am sure that my friends in living in the Owens Valley have many suggestions as well. And I am looking forward to working with Marcie Edwards, her experience is quite impressive.
One of the ways to fix the DWP is to have the DWP uphold and implement the 
Van Norman Enhancement/Mitigation agreements as well as the other 55 mitigation agreements still outstanding with Inyo County. Especially this, the Lone Pine High School Farm project.
 What is so difficult about a mere 30 acre feet of water? This .008 % of what LA residents (not including commercial) purchased in 2010-11 per the DWP's Website's Facts and Figures page (https://www.ladwp.com/ladwp/faces/ladwp/aboutus/a-water/a-w-factandfigures?_adf.ctrl-state=1t88m4iju_4&_afrLoop=62831165023525). As we in the Owens Valley have had to learn how to live within our water means, I'm sure we can teach LA residents how to do likewise.
This high school plan is a wonderful idea that should have been producing results for the last decade and a half. And as we go into a period of climate change that none of us can predict exactly what will happen, we all very much need to focus on local agriculture. This is one project that should be implemented immediately. We need these youngsters to learn how to produce food for the future.
Also I learn from the Sacramento Bee that the DWP owns many buildings in Independence and that they are letting them rot due to alleged budget constraints (http://www.sacbee.com/2014/01/05/6046630/outrage-in-owens-valley.html). I just don't understand how letting our towns disintegrate makes any more water or it cheaper for LADWP ratepayers? Can someone please explain that to me?
Treating the Owens Valley correctly is what is needed. No one in any of the Sci-Fi I read gives LA very good press—this is your time to turn that around. LA you can be Heros. Let's talk how.