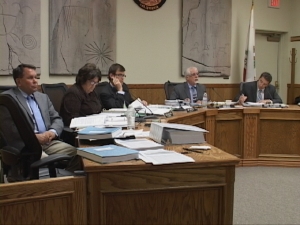 by Charles James
Benett, thank you for your effort to reach out to the Inyo Board of Supervisors on their vote to approve pay raises to county employees ten months ago without a plan in place to pay for the $2 million it added to an already existing structural deficit.
It doesn't seem that in the "Comments Section" of the Sierra Wave website that the public is "buying" the idea of going into further debt without first knowing exactly where the money will come from first. Perhaps that would have taken an extra month or so of the Supervisors and CAO's time…but really, after four years, what was the hurry?
It may be true that the Supervisors are over-reliant on information provided to them by the CAO, although from their comments it seems they relied more on "his opinion" than facts. Without reliable information from the CAO, I'm not sure what their other resources might be– perhaps using their own initiative by looking at how other counties in similar situations are addressing the issue of pay raises was one? Perhaps reaching out to their constituents for ideas or–here's a concept worth exploring– asking the employees themselves BEFORE, not after approving raises?
What possibilities might the negotiations with the employee unions have had if, before approving anything, the Supervisors told the unions that no raises could be made until the money was found first to cover the added expense? Now that would have possibly lit a real fire to the Service Redesign effort!
What these Supervisors don't seem to quite understand is that "knowing" is not the same as "understanding. Ten months ago when they voted for the pay raises, it is only now that they are really being forced to explain their decision to the public…and now only because they have no choice, largely thanks to your efforts Benett.
The public is entitled to know more than simply how the Supervisors vote on an issue; they are entitled to "understand" why a decision is made… not find out ten months later the "why" on an issue which would clearly would have a negative impact on county services. The basic tenets of any is "Who, What, When, Where, WHY, and HOW?" This board's decision of the "Why and How" has been largely lacking until now.
This current situation reminds me of two quotes from the movie "Cool Hand Luke" with Paul Newman:
Boss: "Sorry, Luke (Paul Newman). I'm just doing my job. You gotta appreciate that.
Luke: Nah – calling it your job don't make it right…"
(And)
Captain, Road Prison 36, to Luke: "What we've got here is… failya' to com-mu-ni-cate."
Sincerely,
Charles James
138 Elmcrest Drive
Big Pine, CA 93513