– The following letter to Sierra Wave was written by Philip Anaya of Bishop:
Dear Sierra Wave:
(Tuesday) the Inyo County Board of Supervisors voted 4-0 with one abstention (Mark Tillemans) to not reduce the irrigation water for the Ranchers of the Owens Valley.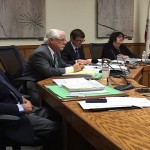 The Los Angeles Department of Water and Power, in its request to reduce water to Ranchers by 10 percent, valley-wide and 20% in Laws and Independence will now be required by the Water Agreement to provide the full allottments of water to the Lease Holders.
There will be shortages, however, for those Ranchers who rely on surface water from streams and creeks in this second drought year.
The DWP to its credit made their request to Inyo County per the requirements of the Water Agreement and the Inyo Board of Supervisors have now voted to accept the recommendation of it's Water Department to not reduce Ranchers water.
The Water Agreement has not been adhered to in many instances since its adoption. It is not the perfect solution for the future of the Owens Valley and DWP, but (Tuesday) the work of many people who crafted the Agreement saved the water in the Owens Valley for the Ranchers.
Those are big shoulders to stand upon these days and our Board of Supervisors are standing tall upon those shoulders today. There are no promises for the future of water in the Owens Valley but today the future looks a little more promising.
Signed,
Philip Anaya, Bishop