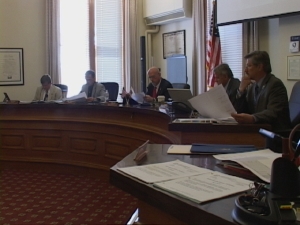 Although Mono officials remain uncertain about the impacts of major changes in Mammoth Mountain operations and leadership, they will consider a letter to Senator Dianne Feinstein to gain continued support for June Mountain and a regional concept. After Mammoth Mountain CEO Rusty Gregory's statements that he will no longer operate the Ski Area in a few weeks and that a leadership team will, some have wondered if this will impact the very definite plans for June Mountain that Gregory spelled out at a Supervisors' meeting in April.
Supervisor Tim Alpers crafted the letter which points, not just to June Lake, but to the concept of a Mammoth-June year round recreation corridor. The letter to Feinstein will go before the Mono Supervisors at their meeting Tuesday in Mammoth Lakes at the Sierra Center Mall. The proposed letter says the Board of Supervisors wishes to go forward with a "comprehensive package." That package includes the re-opening of June Mountain with improvements – replacement of the J-1 access chairlift, installation of snowmaking, new family amenities, enhanced marketing and assistance in talks about adding hotel room equivalents to the community.
The letter says the recreation corridor concept depends on the success of both Mammoth and June Ski Areas. It also says the Supervisors intend to regularly communicate with ski area management, staff, and the Forest Service to monitor "progress toward our common goal."
The letter proposed to the Mono Board goes on to support Mammoth Mountain's plan for a land exchange with acres at Main Lodge and land near Mono Lake. The letter says these private land holdings are "better suited for resource management under the US Forest Service" and are consistent with the Mono General Plan.
The Supervisors' letter proposes support to either acquire the June Lake Rodeo Grounds property or identify a willing developer to help add to the bed base. The Board would also promote a working relationship between Mammoth-June Mountain management and the June Lake community.
The proposal would also support June Lake in other ways – continued marketing efforts, new recreation, business-friendly regulations, expansion of community trails, street refurbishments, last mile provider promotion of Digital 395 in June Lake, continued support of air service, development of Conway Ranch into a trophy trout farm; and continued meetings with June Lake citizens' groups, ski area staff, and the Forest Service.
The letter finally asks Senator Feinstein to join in closely monitoring the development of the recreation and tourism region. Copies of the letter would go to Senator Barbara Boxer and Congressmen Paul Cook and Buck McKeon.
This letter is the last item on Tuesday's Board agenda with a rough timed estimate of 3:00pm.