From Stan Smith
An Open Letter to the Bishop City Council:
Hopefully putting politics and pressure to one side, the Bishop City Council voted 5-0 Monday evening (August 20, 2018) to deny the Chacon appeal of the City's Planning Commission's position to disapprove a proposed industrial warehouse on East Line Street, so they could gussy up their buildings on Main Street and Warren Street, which have been obvious warehouses for years.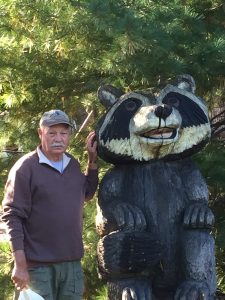 Without a doubt the Chacon properties mentioned have been cause for commercial-retail neighbors to call city hall and complain about the warehousing in a downtown retail district, which is technically a violation of city zoning and business  use codes and could have earned the Chacons a cease-and-desist notice.  Absent code enforcement in the City of Bishop, the Chacons have been apparently sliding for some time.
What's really at play here is the fact that the Chacons and the old K-Mart building on North Main Street have apparently been primary reasons for vacancy and zoning and use violation complaints received at City Hall, which have in some part been the raison d'etre for a proposed vacant building ordinance working its way through community workshops, most recently and ironically held the Monday afternoon before the Chacon turn-down.
One of the major tenets of the ordinance under consideration is a registry of downtown commercial building owners and/or property managers, who could be contacted by the city and then listed for building size, rents being sought, and other terms and conditions.  It was pointed out to the council Monday that they already have a building ownership registry of sorts, with the list maintained for emergency contact purposes in the event the police or fire department is called for response to a situation.
So why some sort of new registry?  It seems it would be attached to an overlay of keeping track of vacancies so blight, street problems, possible homeless or criminal activity, vagrant entry, might be encoded.  Note no mention is made in the registry or vacant building ordinance proposal for zoning and code enforcement!  It comes off seeming to be a new level of government information gathering just for information's sake and no corrective action.
However, with the Council's 5-0 anti-Chacon appeal Monday night, there may be hope that some of the downtown business community's needs for character/identity, parking, signage improvement and controls after a business closes operation, demographic analysis and community economic revival, architectural standards and façade loans, code compliance and even searching for a grant or loan source for use by landlords and tenants in developing and remodeling existing older structures may be in the offing by a progressive council and city administration.
Time will tell.
It was interesting to hear the council think briefly of a moratorium on some area construction, but then discard it quickly.  Perhaps the intent was to discourage metal structures due to appearance factors, overlooking the construction/development costs of metal vs. wood or other materials.  Wisely, the council may have recognized that a sturdy building can be built with non-traditional material which can result in lower development cost and winds up lowering the asking rent for a retail or commercial or industrial user.  Kudos to the Council!
It was also refreshing to have the council direct city staff to conduct a workshop with Bishop's real estate community for ideas and data and ownership and vacancy information, which meeting should be held soon.
That relationship could be very eventful and prevent the city from entering into a zone of potentially interfering with the free marketplace which features landlords and owners and real estate agents and brokers assisting each other in  finding qualified tenants and negotiating  tenancy terms and conditions, for both existing businesses and encouraging start-up entrepreneurs.
Stan Smith
Pleasant Valley Associates Real Estate