– Press release
Let Mammoth Decide Files 375% of Required Initiative Signatures
On May 6, 2015, Let Mammoth Decide filed 1071 petition signatures with the Mammoth Lakes town clerk in support of its proposed ballot measure to ensure that nightly home rentals cannot be expanded into residential neighborhoods without voter approval. The signatures represent 70% of the number of citizens voting in the most recent Mammoth Lakes election, when 1,530 voters turned out.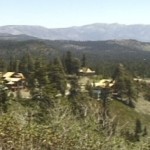 The initiative does not change current zoning restrictions regarding nightly rentals. It deals only with the three low-density residential zones where nightly rentals are currently prohibited (RSF, RR and RSF-1), and requires that future changes to that prohibition be approved by the voters, not just the town council. The initiative does not address zones where nightly rentals are currently allowed, such as the Resort, RMF-2 and Commercial zones, where the council will continue to have authority to act on its own.
Kathy Cage, initiative co-sponsor and former councilmember, announced the filing during public comment at the May 6 Town Council meeting, noting that the overwhelming majority of voters in Mammoth believe that nightly rentals should not be expanded into residential neighborhoods without voter approval, and asked that the Town Council adopt the initiative rather than hold a special election.
Initiative co-sponsor and forty-three year local Tom Gaunt noted, "I raised my family here because of the high quality of life and strong sense of community in my neighborhood. I live a block away from the Resort Zone so I see the many impacts that vacation rental homes impose on neighbors and believe those impacts are more appropriately situated in specially designated and managed areas, not peaceful residential neighborhoods."
Fellow initiative co-sponsor and retired Mammoth High School Principal Michael Agnitch concurred, stating that in the past he "lived in an area which allowed nightly rentals, and decided to move to a residential area where they were prohibited," explaining, "I wanted to live in a residential area where you know who your neighbors are, whether they are full-time residents, second-home owners or long-term renters. I'm talking about people who are committed to our town, not just visiting for a few nights on vacation," adding, "the initiative is not about this town council. It is about the future of our town. This issue is so fundamental to the nature of our wonderful community, that the power to control it must be held by our community, not three members of this, or any future council."
Once the initiative is scheduled for formal action by the Town Council, it can adopt the initiative as written and it becomes law, or they can call for a special election paid for by the taxpayers. The point of this step in the election code is to allow local governments to avoid costly elections when the will of the people has already been made clear.