Lenore "Lili" Mora
1933-2016
Lili was born on April 11, 1933 in Animas, New Mexico to Ramona and Elias Gomez of Rodeo, New Mexico where she was raised. Lili passed away on December 18, 2016 at home while surrounded with peace and love from family.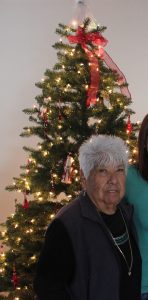 Lili and her husband Robert Mora of 64 years moved to the Bishop area in 1954, and made their home in Round Valley.
Lili and Robert raised their two sons, Robert Mora Jr., and Dennis Mora, both of Bishop. Lili has two grandchildren, Owen Mora of Reno, Nevada and Cassie Mora of Mentone, California; which she lovingly referred to as her pride and joy! Lilis' role in helping to raise her grandchildren was immense with her example of guidance, strength, faith and unconditional love.
Lili worked as a librarian in Rovana and later as a Spanish interpreter for the Superior Court of California, County of Inyo. She also worked for Wild Iris in various positions advocating for women's rights and safety, and served on the Inyo County Mental Health Advisory board.
Through her work and volunteer time she was a tireless advocate for women's and men's rights and dedicated to the Hispanic communities of both Inyo and Mono Counties.
Lili was a devout Catholic to St. Joseph Catholic Church of Mammoth Lakes, California and dedicated her time to teaching marriage instruction and quinceanera classes. She also dedicated time to Our Lady of Perpetual Help Catholic Church in Bishop with marriage instruction.
Her faith was undeniable and she always said, "when God tells me it's time to go home, I'm ready to go."
Lili will be missed dearly by her husband Robert Mora, son Robert Jr. and wife Barbara Mora, son Dennis and wife Julie Mora, grandson Owen Mora, granddaughter Cassie Mora and husband Steve Aboytes with daughter Keani Aboytes and sisters and brothers living in Rodeo, New Mexico and Grants Pass, Oregon and those who knew her and loved her as if she were family.
Her legacy will live in our hearts forever as we strive to live by her example of strength, faith, unconditional love, selflessness, and spontaneity for life.
There will not be any services held for Lili, per her request.  We only ask that you give thanks for the time we had with her and pray for the family's strength and love during this difficult time.
"Grief never ends…but it changes, it's a passage, not a place to stay. Grief is not a sign of weakness, nor a lack of faith, it is the price of love."