Graveside Funeral services for Lenore M Allison, 96 a long-time resident of the Owens Valley for the last 38 years, will be Saturday July 9 at 10:00 AM at the East Line Street Cemetery.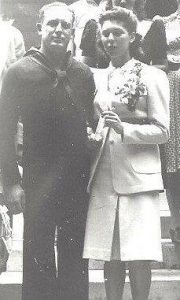 A celebration of life will be scheduled for late July, early August.
Mrs. Allison was born in Stockton, CA January 31, 1920. She passed away on June 30th at the Bishop Care Center.
She was a long-time member of the Order of the Eastern Star and had two terms as Worthy Matron.
She graduated from Bishop High School in 1937 and was married on July 27, 1941 to Archie G Allison. She moved all over the United States as a wife and mother while Archie was in the Navy. They retired in Big Pine and where married for 50 years.
She was the mother of Archie G Allison II, Bakersfield, CA, Peggy Prickett, Myrtle Pt., OR and John W Allison, Bishop, CA .
Grandchildren include Archie G Allison III, Rochelle Baldwin, Matthew B Allison, Shayna Allison, Katie Abbott-Oneil, Kendra Anderson, Tamara Brown and Cassandra Detzler and 9 Great Grandchildren.
She will be interred with her husband at the East Line Street Cemetery. Brune Mortuary will organize the arrangements.