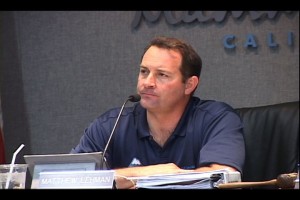 Councilman Matthew Lehman sat in the Mammoth Town Council Mayor's seat as the Town wavered close to bankruptcy last year. They were tough times and full of almost daily meetings. At this point, Councilman Lehman has decided not to seek re-election.
Lehman announced that he will not run for Council or for Mono County Assessor. He said, "For me it's been a tough four years. I want to re-build my personal relationships and my business. This is an opportunity," said Lehman, "for a lot of other energetic, potential candidates."
As for his time on the Council, Lehman said he "enjoyed it a lot. I wish I could do it again, and maybe in a couple of years I will," he said. Lehman said he is proud of his time served for the community in which he grew up.
He underscored the near-bankruptcy experience in the Town and how that crisis took a lot of time for all council members who were taken away from their families and businesses.
With two incumbents, John Eastman and Matthew Lehman, not seeking re-election, the filing deadline would be extended on March 7th, if that is the case then, through March 12th. Check with Town Clerk Jamie Gray for details.
At last report, these people had pulled papers, showing an interest in running for Mammoth Town Council: Deb Pierrel, Joe Parrino, John Wentworth, Ken Murray, and Elena Blomgren.