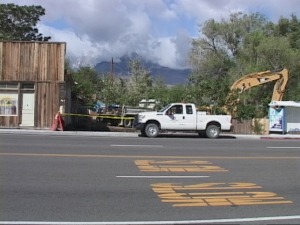 Another gaping hole on another main street in Owens Valley towns stands as a testament to the Los Angeles Department of Water and Power policy of tearing down structures on their land instead of maintaining them.  This time, a question remains – did LADWP violate any laws or rules when they demolished the historic barber shop in Independence without a demolition permit?
Inyo County Counsel Randy Keller said, "It's too early to say."  What is known is that LADWP did apply for a demolition permit but the County did not issue a permit granting permission to demolish the shop.  When LA submitted their application to the Inyo County Building Department, the document went to the Planning Department for review, as usual.
Planning Director Josh Hart said that the Planning Department did not approve the demolition permit being issued.  Hart said that demolition did take place without a permit which is a violation of legal rules.  He referred us to the County Counsel's office.
Randy Keller said it's his understanding that there were discussions about the need for review of the building under the California Environmental Quality Act.  Keller was not prepared to comment on whether LADWP violated legal rules.  He said he has just started to look at the issue.
Nancy Masters of the Independence Civic Club has said that the building was historic and protected under law and that LADWP knew it.  DWP's only comment on this issue was that the building was unsafe and not up to code. They claim it was not an historic structure.  Masters says LA did not follow the state process on determining an historic structure.  She added that LADWP does not care about the law nor about the history of the Owens Valley.  She called LA's practices of demolishing ranches, homes and other buildings over the decades as "cultural genocide".
A November 2011 letter from the Independence Civic Club to LADWP expressed interest in renovating the old hair shop as well as the Pines Cafe. Masters said LADWP never responded. She and others fear the Pines Cafe building is next.