LADWP press release
Los Angeles, CA – The Los Angeles Department of Water and Power (LADWP) has awarded the contract for construction of Phase 9/10 of Owens Lake's dust mitigation effort to OHL USA. The contract with OHL USA is not to exceed $238,973,689, which includes a 10 percent contingency amount of $21,724,881. OHL USA was awarded the contract with a bid amount of $217,248,808.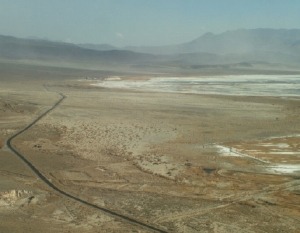 The Phase 9/10 project is designed to mitigate dust emissions on an additional 3.62 square miles of Owens Lake playa. By the completion of this project, the City of Los Angeles will have mitigated dust emissions from over 48 square miles of Owens Lake playa and LADWP will have reduced PM10 dust emissions from the lakebed by 99 percent. The effort is scheduled to be completed by December 31, 2017. Upon completion of Phase 9/10, the City of Los Angeles' overall investment in the Owens Lake Dust Mitigation Program will reach nearly $2 billion.
OHL USA will be hiring union trades, clerical and office staff positions for the Phase 9/10 Project. To apply to work on Phase 9/10, please contact Ezam Khazeni of OHL California at 949-242-4432, or email your resume to [email protected].

OHL USA's West Coast office is staffed by experts in heavy civil construction who have decades of experience working in the region. Their expertise and capabilities are supported by the financial strength and technical resources of OHL's global practice, which includes more than a century of successful construction around the world.