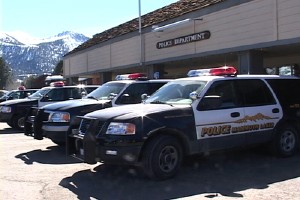 ** NEWS  RELEASE **
Rollover Crash in Mammoth Lakes
On Wednesday, August 21 at approximately 8:50 pm, Mammoth Lakes Police, Fire, and Paramedics responded to a rollover collision on Old Mammoth Road at Red Fir Rd.  When they arrived they found a Nissan Pathfinder down an embankment and overturned.  The driver, Vasiliy Shkunov, 23 of San Pedro and his 21 year old passenger, Ryan Pluche of Camarillo, were traveling eastbound on Old Mammoth Road at a high rate of speed when Shkunov lost control  in a 15 MPH curve near upper Red Fir.  The Pathfinder missed several boulders and a large pine tree, and collided with the Valentine Reserve wooden fence and came to rest on its roof in the Reserve.
Both occupants were wearing seatbelts and were uninjured.  The follow-up investigation determined that the Pathfinder was traveling in excess of 50 MPH in a posted 15 MPH zone.  The Pathfinder was totaled along with a section of the Valentine Reserve fence, a deer crossing sign, and a snow stake.
Shkunov has been cited for excessive speed.
 – MAMMOTH LAKES POLICE DEPARTMENT
568 Old Mammoth Rd., P.O. Box 2799, Mammoth Lakes, CA  93546