As the Town of Mammoth Lakes continues to negotiate its lease with the Minaret Village Shopping Center landlord, Pacific West Management, it has come to staff's attention that the sublease for Mono County, which leases 7,000 square feet of the Town's office spaces, is non-existent.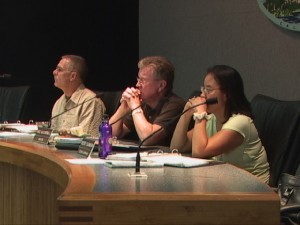 "We've been looking for it because the County wanted a copy, but it doesn't seem to be anywhere," stated Human Resources and Risk Management Director Michael Grossblatt.
According to Grossblatt, this means that the County is on a month-to-month lease and could leave the building at any time. The County has shown interest in moving across the street to the Sierra Center Mall where the majority of its office spaces are located.
"It is embarrassing not to have a sublease," stated Mayor Neil McCarroll. "We can't approve a lease without a sublease."
Bob Grunauer with Pacific West Management stated that there was no clause in the Town's lease that stated they needed a sublease from the County. In the lease currently being negotiated, Pacific West added a section that states if the County does vacate then the Town would not be responsible for that 7,000 square feet, but the Town's rate would go up by 15 percent, or $2,000 per month.
Council member Skip Harvey was unsatisfied with that clause, claiming that the Town needed to know if and when the extra $2,000 per month would begin so that they could budget for it. Grunauer stated that the rate increase would only be put into play if the County left, and it would not be retroactive.
McCarroll and Harvey still felt that the sublease was important to have before signing a lease. They directed staff to bring the item to the Town/County liaison meeting the following day to see if the County would be amenable to signing a sublease, and under what terms they would do so. The Council assured Grunauer that they would bring the item back at a special meeting, or at the Sept. 2 Town Council meeting at the latest. At the liaison meeting on August 20 McCarroll and Town Manager Rob Clark stated that there was nothing to report regarding the sublease.