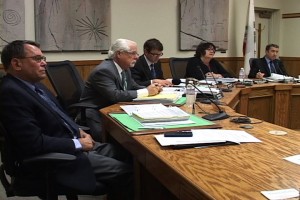 Inyo County Learned Helplessness Syndrome (ICLHS) is a behavioral disorder which affects Inyo County adults without regard to gender or ethnicity.  Victims experience loss of nerve, the sensation of having no backbone, and feel powerless, especially after learning about actions of the Los Angeles Department of Water and Power (DWP).
ICLHS was on display last week when the Inyo County Board of Supervisors (BOS) discussed Inyo County's comments on the Draft Environmental Impact Report for DWP's proposed Southern Owens Valley Solar Ranch.  Several members of the public urged the BOS to work to oppose the project.  The BOS pointed out that the LA Board of Water and Power Commissioners would make the final decision, asked whether the County zoning could be changed to accommodate the project, and speculated that planting trees might make the project acceptable.  The idea that the BOS could show leadership and try to rally opposition to the project never came up.
With the BOS incapacitated, it is up to individuals to act.  The best way to fight ICLHS and the proposed solar project is to make your voice heard.  If the proposed project becomes a political liability in Los Angeles an alternative will be found.
I suggest sending a letter to Mayor Garcetti and a copy to Mel Levine, the new head of the LA Board of Water and Power Commissioners.  Point out that DWP is reverting to its old trick of shamelessly exploiting Owens Valley.  The project will obliterate almost 60 archaeological sites, at least five rare plant populations, and industrialize one of the most spectacular landscapes in the country.  In addition to violating Inyo County zoning, the project is inconsistent with the goals of the Land Management Plans required under the MOU to the Inyo-LA Long Term Water Agreement.  Mayor Garcetti should be reminded that Los Angeles has plenty of unused sunshine and that Owens Valley has already sacrificed far more than its share for the growth of Los Angeles.  Rather than increasing its dependence on Owens Valley resources, LA should work toward resource self-sufficiency.
If everyone who reads this were to write such a letter, and ask a friend to write such a letter, it could have an effect.  Other industrial solar projects will be proposed in Owens Valley when existing transmission lines are upgraded. If we can't stop this project, there is little hope of stopping the others.
Daniel Pritchett, Bishop