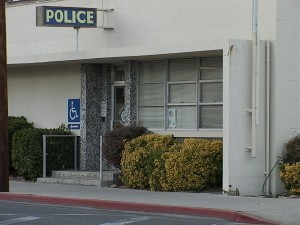 Although it was a closed issue last spring, now published reports talk about what the City of Bishop might have saved contracting for law enforcement with the Inyo Sheriff. A final amount of savings, the Sheriff said, was never determined because the study was never completed.
At the beginning of the year, the Bishop City Council did ask the Sheriff to start figuring out how much Bishop might save by giving up the Police Department, but, according to the Police Chief and the Sheriff, the preliminary study never reached a conclusion or a final amount of savings. In February, City officials had said when the Sheriff arrived at preliminary figures of savings, the City would then decide whether or not to spend money on an outside assessment team to nail down the specifics of a draft contract. That never happened.
In March, the City Council decided not to pursue a contract with the Sheriff and, instead, to negotiate with officers for savings. Then City Administrator Keith Caldwell had said that the Sheriff and his team performed an initial study but did not go far enough, at the Council's direction, to determine actual details of service and savings.
Police Chief Chris Carter verified that no final figures were ever released to the City Council from the Sheriff. The bandied about figure of a $700,000 savings has not been attributed to anyone in published reports. The Chief said that figure was never presented. Chief Carter said when it was pinned down that the City wanted the same level of service and personnel as the Police Department, the Council tabled the issue.
Sheriff Bill Lutze repeated that there had been no determination of an actual savings amount. He said the study was in "preliminary stages". Sheriff Lutze said of possible savings "there was no final amount."
Some say City Council candidates are privately raising this issue, and a law enforcement contract is reportedly on the list of questions for a future candidates' forum.