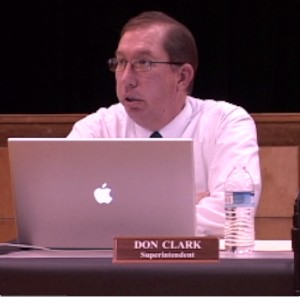 On Tuesday night, the Eastern Sierra School Board moved ahead to officially cut teaching and administrative staff by fifteen positions. These layoffs will likely lead to the closure of two schools, the Eastern Sierra Academy in Bridgeport and the High Desert Academy in Benton.
21 non-teaching positions are also set to be eliminated. While the schools have not been officially closed, Superintendent Don Clark has explained that due to the cuts, these two schools won't have any staff. Clark explained that the students at the Eastern Sierra Academy will have a choice between Coleville High, or Lee Vining High. Its a tougher situation for the students at the High Desert Academy. Clark says that these students may have to attend schools in Bishop.
Many parents and community members that had worked on a plan to reduce the number of layoffs, were angered when the school board did not put their cost cutting ideas on the agenda for discussion Tuesday. Clark says that the District absolutely considered the community budget ideas. He explained that some of the community cost cutting ideas were the same as the District ideas, but in the end Clark says that 85% of the District budget goes to salary, so thats where the cuts had to be made.
The $1.8 million budget shortfall is due to a drop in revenue along with too much spending. When asked how the district ended up spending too much, Clark explained that the district had a healthy reserve fund and had hoped to ride out tough economic times.
With what appear to be the inevitable closure of two schools, many people have been angered by the actions of the school board and the superintendent. Clark says that the attacks have become personal, and have included accusations of criminal activity.
To his critics, Clark says, I want to assure people that weve done nothing illegal or unethical, and adds, We tried to weather the storm with our reserve. I wish we would have started to make gradual cuts. Now Clark says it is time to be proactive and positive to rebuild trust in the District.