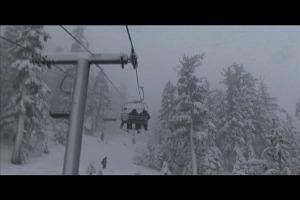 Many are still heart sick over last Wednesday's layoff of 75 permanent employees at Mammoth Mountain.  Observers struggle to understand why a Mountain that brings in more than 100 million every year could not support its workers.  CEO Rusty Gregory has tried to explain that the money is just not there.  Most people find the realities of big business  hard to figure out.  Criticisms continue in online comments, letters and calls.  In a post on the Mammoth Mountain Forum and in a letter to laid off employees, Gregory tried to explain. He also answered some of our questions.
In regard to finances, Gregory said that the Mountain has a reserve credit line for "a significant downturn like the drought of 2006-07 and the financial meltdown of 2008-09."  He said each of those seasons' revenue was down by around $20 million.  This year's nation wide drought, he said, has affected demand much more severely.  The Mountain projects a drop in revenue of $40 million.  Said Gregory, "That's two times the drop we have seen in previous years."
In the Mammoth Mountain Forum post, he revealed that "by March 15, we will be in breach of our loan covenants, which means that the bank will make us cut expenses aggressively. I decided to cut year round jobs. I believe that if I didn't act yesterday that I would be causing many more job losses later this year."
Gregory said he learned this painful lesson in the "slow response to the circumstances that led to Black Monday and the layoff of 150 employees."  That was in 1991. Gregory repeated that this year the layoffs were his decision. He said in the Forum post that "Barry Sternlicht didn't tell me to do this. Neither he nor any of our other partners has told me to do anything. They remain supportive, solid partners and friends."
The post goes on to say that monthly revenue is running $10 million less than last year. The CEO said he had 5 days of meetings with his top managers to figure out which year round jobs to eliminate in order to save $500,000 per month. He said, "We did our best to cut jobs that would not directly impact the day to day operations of the mountain or guest services."
Gregory said that management and higher paid jobs in administration, IT, accounting, and maintenance took the biggest hit. 2 VP's were let go. He said he delivered the news personally to the 10 employees with the longest tenure with the company, from 28 to 44 years. Gregory said, "I am still crying. But my pain is nothing compared to the pain and hardship I have burdened 75 top performing, long time employees and their families with."
Gregory's post said that the majority of the 150 employees who were let go on Black Monday in 1991 were rehired by the company within 1 year. He said, "I hope and pray that this will be the case again."  Others have asked how can people live in today's economic climate until they get rehired?
In his letter to laid off workers, Gregory gives them the dreadful news that their jobs are gone without two weeks notice.  The letter says, "Simply put, the company is not bringing in enough money to pay the wages for the number of people we currently employ."  The letter, dated February 29, said flatly, "It is with deep regret and overwhelming sadness that I inform you that your position has been eliminated and that your employment with the company will end upon receipt of this letter."
The letter goes on to say, "Nothing I can say will change today's harsh reality and the action I am compelled to take.  You have performed your job well and contributed significantly to the mission of Mammoth Mountain. I am so very sorry to let you go."  Gregory also says his words will do little to lift the burden of the layoff, but he says he plans to do what he can to "lighten the load."
The letter then goes on to say that the laid off workers are entitled to receive the insurance benefits that they and their families currently receive.  Gregory says the company will pay for up to 18 months depending on how long the employee has worked for the Mountain.  He also says the company will rehire the workers in a seasonal position if they're interested and able.
The laid off workers, Gregory says, are leaving in good standing and will receive recommendations, help with resumes, and help with filing for unemployment benefits.  Gregory also makes himself personally available for anyone who wants to talk to him. Gregory's Forum Post and a link to the letter to employees are both available on our website, sierrawave.net.
Others have asked why spend millions on air service subsidizes at this time.  Gregory responded that "We guarantee that each of this year's 7 flights will break even.  Our budget for this year's combined subsidy," he said, "is $1.3 million."  Gregory said at this point it's hard to tell how much more this year's combined guarantee will be from what's budgeted.  He said the current estimate is $1 million to $2 million more than budget.  Gregory concluded that he thinks year round air service is fundamental to the community's future and the Mountain will continue to guarantee the program.
Meanwhile, Gregory plans to speak to the Mammoth Town Council Wednesday night.  His item is listed on the agenda as a "Business Update".  And, emails were circulating from a Paul Ramirez, who is apparently a second homeowner.  He has created a Facebook page called 30,000 to Save Mammoth Jobs.  He's encouraging all to help get 30,000 visitors to Mammoth by March 31. He believes that would generate $2 million in revenue.  He also encourages businesses to go to the Facebook page and post, free of charge, any specials they have. Find his page at https://www.facebook.com/SaveMammothJobs.