Initial stories in the press outside of the Eastern Sierra predicted doom and gloom for trout stocking next summer, but with the publication of the stocking list for 2009, word has gotten out fishing in the Eastern Sierra will for the most part continue as usual next season.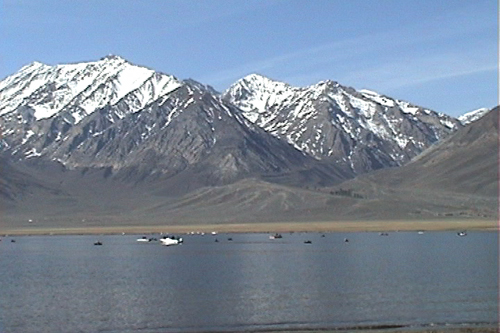 The Department of Fish and Game had been sued by Stanford law students and the Center for Biological Diversity over the impacts of the state hatchery system on native species, like mountain yellow legged frogs, red legged frogs, steelhead and golden trout.
Fish and Game had until the end of this year to study the environmental impacts of stocking fish, but the department was not able to finish the environmental impact report by the court ordered deadline. During negotiations for more time, Fish and Game officials thought that any and all stocking statewide could be shut down next year.
An agreement has now been worked out that give s the Department another year to do the EIR, with some limitations on planting hatchery fish next season. If Fish and Game has not surveyed a body of water and doesnt know what native species are in there, they cant stock. Man made reservoirs over 1000 acres in size are okay to plant, smaller reservoirs are too, if they dont connect to water that contains native species.
When we spoke to Gary Williams, who supervises the local trout hatcheries, he explained that trout stocking in the Eastern Sierra was back on as a result of the agreement.
None the less, an article in the Sacramento Bee had stated anglers may no longer be able to catch rainbow trout in many of Californias mountain lakes, as a result of this agreement. In that article, a former hatchery supervisor says that the agreement could have a significant impact on Mono County and the the people that run the resorts.
DFG has now published a list of waters that wont be stocked next season. Only two local bodies of water are on the list. Pine Creek wont be stocked next year. Sotcher Lake, near Reds Meadow is also on the list.
Williams says that waters in the Eastern Sierra, like Crowley, North Lake, South Lake, Sabrina, the upper and the lower Owens River, will all be stocked as planned next year.
Fortunately for the local economy, both the LA Times and the San Diego Union Tribune reported that most stocking in the Eastern Sierra would continue under the agreement.