By Deb Murphy
Owens Valley's Adventure Trails pilot project got a green light from Judge Dean Stout with a Stipulated Judgement in a lawsuit filed by environmental groups. The Board of Supervisors can complete the process at today's meeting with its approval.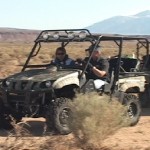 Petitioners, The Center for Biological Diversity and Public Employees for Environmental Resonsibility, agreed to "dismiss the Petition in its entirety against all named parties." Inyo County and Adventure Trails System of the Eastern Sierra agreed to not approve "any of the 31 deferred routes or new routes … prior to the pilot project sun setting Jan. 1, 2017" and to "abide by the requirements of " California Environmental Quality Act EIR guidelines of the enabling legislation, Assembly Bill 628, is extended beyond Jan. 1, 2017.
"It's been a long road," said Adventure Trails' representative Randy Gillespie. "We're done kicking the can down the road. Now we can put the project together and show the public that it will work. Now we'll have a managed system."
According to Gillespie, the organization's goal was to develop a few routes in Southern Inyo and begin to build data. Now, said Gillespie, "that's what's going to happen."
"Staff did an amazing job," said Supervisor Mark Tillemans. "We didn't give up much and we'll be able to gain a lot of data" over the next year and a half.
While none of the routes provide access in the City of Bishop, five are in the vicinity. Route 5 starts at Brown's Town and ends at the Poleta OHV Recreational Area; Route 6 starts at Pleasant Valley Campground and ends at Horton Creek Campground; Route 7, Pleasant Valley campground to Tungsten Road; Route 9, Brown's Town to Bir Road and Route 15, Laws to the Poleta OHV Recreational Area.
In addition, the Independence route starts downtown and ends at Mazourka Canyon Road and the Lone Pine route starts at Boulder Creek and ends at Horseshoe Meadow Road.
The suit called for the removal of directional signage and focused on the County's environmental documents, monitoring and mitigation.