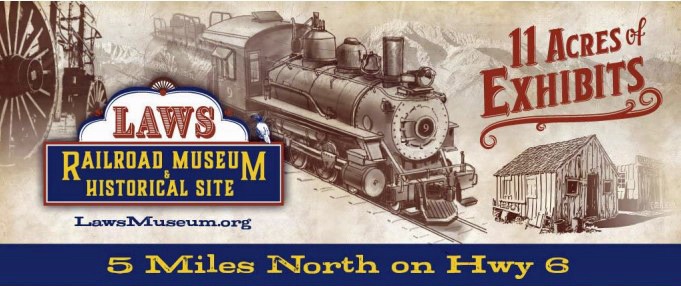 Looking forward to a soft opening!
Laws Museum is pleased to announce the re-opening of our grounds and outdoor exhibits beginning on Thursday, March 18. Museum hours will be 10:00 am to 4:00 pm, Thursday through Sunday. Visitors are required to follow pandemic protocols to
continue to protect themselves and others.
The Reception Center/Gift Shop and the museum's indoor exhibits will re-open when Inyo County returns to the red tier or below. The museum depends on the generous support of our visitors. While the Reception Center remains closed, guests will have the opportunity to make a secure donation by check, cash, or credit card in support of Laws Museum.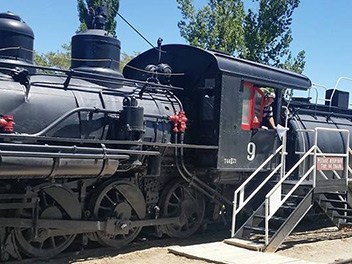 The future appears bright as Laws Museum makes plans to host several events in late summer and fall of 2021! The Curley Fletcher Birthday Poetry Rendezvous is scheduled to take place on September 24-26. Now is the time to "brush up" on your favorite poems and plan to recite, as we will encourage participation from all who attend. A full schedule and roster of performers will be announced soon!
October 2nd will mark the return of the much loved Choo-Choo Swap Meet at the Tri-County Fairgrounds. It will be great to see everyone once again at this great Owens Valley event! On December 12, be ready to come out to Laws Museum to meet Santa and climb on board the Railroad Express! "Ho-Ho-Ho!"
Laws Museum and Historical Site is honored to be here to preserve the rich history of our Owens Valley community. Will you join Laws Museum as we make history? We would really like to hear your ideas for events you would like to see take place at the museum. We can increase our capacity to do more at Laws Museum if we have more folks actively involved in helping out. We have many requests to bring back Good Old Days, but it will take a team of volunteers for it to happen.
Call the museum, (760) 873-5950, with your ideas! We'd love to hear from you. Email us at [email protected].