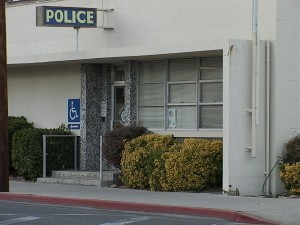 As the City of Bishop faces ongoing budget challenges, officials decided to at least explore the idea of a law enforcement contract with Inyo County. Sheriff Bill Lutze and his team continue their preliminary investigation of costs. Meanwhile, the City Council scheduled a workshop for today to look for other ways to save money.
The Sheriff met with City Administrator Keith Caldwell and Police Chief Chris Carter last week to review law enforcement details like what happens with patrol cars, weapons, ammunition, radios and other equipment under a County contract. Chief Carter said, "The process is moving forward." Carter said the Council will receive an update on this issue during their Budget Workshop this afternoon.
Asked if there were a deadline on gathering information for a contract, Chief Carter said when the Sheriff has compiled his preliminary figures, he will present them to the City Council who can then decide if they want to spend the money to bring in an assessment team from the outside to nail down a draft contract.
To some degree, Chief Carter's fate will be driven by those decisions. He did confirm that if the Council does decide to contract with Inyo County, he would retire. He said knowing this is a possibility, he has investigated retirement. The Chief has served in law enforcement for 30 years.
As for the Budget Workshop, the Council scheduled discussion on taxes, Information Technology and team building. They also scheduled a closed session regarding public employment of a City Attorney. The workshop was scheduled to start at 2:30pm in the City Hall Executive Conference Room.