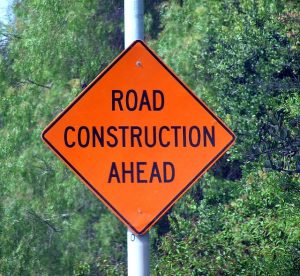 The area up in the Sabrina, North Lake, and South Lake is a very popular destination for tourists and local residents, anglers, hikers and campers. Some much-needed work is being done during the South Lake Rd. Reconstruction Project to improve the roadway and parking areas. Parking this summer  has been very limited, especially overnight parking.
The Inyo National Forest Service has expressed their gratitude to Hat Creek Construction for "staying on a tough schedule to get the work completed at the Bishop Pass Trailhead."
Here is the latest information from the Inyo National Forest Service Public Affairs Specialist, Deb Schweizer: South Lake Road Construction Information: Press Release from Inyo National Forest
The construction schedule remains Monday – Friday, 6:00 am to 8:00 pm. Expect up to 30-minute delays. Flaggers and a pilot car will manage traffic, allowing alternating two-way traffic.
 Overnight parking restriction ending; Parking still limited
 The overnight parking restrictions at the Bishop Pass Trail are anticipated to end July 24th. Parking will be restored after the work is complete (July 25th).
However, hikers entering or exiting the Bishop Pass Trail should still understand that parking is extremely limited, plan their trips in accordance with the reconstruction schedule and consider being picked up or dropped off at the trailhead or using shuttles to/from trailheads.
Overnight parking is still available at the dirt parking lot north of Tyee Lakes Trailhead (3 miles from trailhead), but hikers should plan for bear lockers only at the Bishop Pass Trailhead.
There is no parking permitted along roadside shoulders during the construction project.
Hiker Shuttles: Eastern Sierra Transit Authority (ESTA)'s Bishop Creek Shuttle is running twice daily.
https://www.fs.usda.gov/Internet/FSE_DOCUMENTS/fseprd586535.pdf