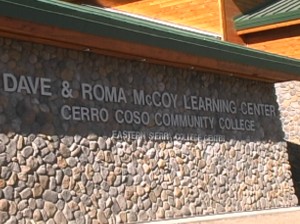 California community colleges have been among the hardest hit by the prolonged budget deadlock. The State has missed another big payment to the community college system – a system that's been inundated with students due in large part to the recession.
The budget deadlock has led the State to miss payments to the community college system totaling $840 million. Individual community colleges have survived by borrowing, freezing purchases and delaying vendor payments. Community college officials say the payment delays, on top of an 8% budget cut last year, come as student enrollment skyrockets.
In the Eastern Sierra, Cerro Coso College Director Deanna Campbell said that our college is one of three in the Kern Community College District and that the District does receive allocations from the State.
Campbell said it was predicted that the lack of a budget would impact the Kern District by $5.5 million per month. She said the college district does have a large reserve and so for now no troublesome impact is expected.