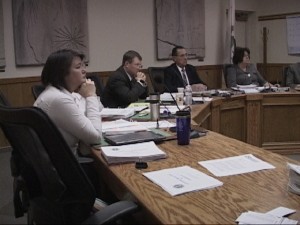 The day before Thanksgiving, Daris Moxley of Bishop called Sierra Wave to say that another vacancy had opened up on the Inyo Water Commission and that the deadline to file for appointment was November 30th. Moxley expressed concern that the public had not been adequately informed. The only public information about the vacancy was published in a legal notice in the Inyo Register. There were no press releases, as per the Inyo Supervisors' policy.
Supervisor Susan Cash emailed us to say she only learned about the vacancy by reading our article. She made it clear that the procedure to publicize the Water Commission vacancy in the legal ads was not a decision specific to the Water Commission. This policy, she said, applies to all county commission vacancies. She said the Board Clerk automatically follows this policy.
Ms. Moxley took issue with the somewhat obscure manner of publicizing the water commission vacancy. She noted that at their September 14th meeting, the Inyo Supervisors stated that they should use local radio stations and papers to inform the public about the open water commission positiions. Supervisor Cash said that this method of publicity was specific to the four water commission vacancies at the time and did not indicate a general change in policy.
So, there was publication of a notice in the Inyo Register on November 18th that the deadline to file for appointment to the commission was November 30th. The seat open is that held by Commissioner Teri Cawelti which apparently expires at the end of December. We contacted Water Director Bob Harrington about the abrupt deadline two days after the holiday week-end. He said, "We should have put out a press release." Harrington indicated he would consider extending the deadline.
On Wednesday, November 24th, Director Harrington did issue a notice to local media that the Supervisors are accepting applications to fill a vacancy on the Inyo Water Commission for a four-year term from January 1, 2011 to December 31, 2014. Harrington said that the County will extend the application period to December 14. Contact the Water Department with questions at 760-878-0001. Those interested should send a letter to the Board of Supervisors, P.O. Box N, Independence, CA 93526 by 5pm, December 14, 2010.