By Charles James
It was a joyous affair as four beloved school teachers which collectively hold 120 years of teaching experience teaching students in Inyo County, were honored with the new Science Lab at Lo Inyo School was dedicated in their names by the Inyo County Superintendent of Schools and Lone Pine Unified School District last Thursday.
Inyo County Superintendent of Schools, Dr. Lisa Fontana, hosted the event, joined by the LPUSD Superintendent Heidi Torix and members of both board of trustees.
Many of those attending the dedication were former students, now adults, under both couples' tutelage and clearly hold them in great affection.
The ICOE Board of Trustees approved $200,000 to the project last October, which was first proposed by former Inyo County Superintendent Dr. Terry McAteer.
The Langleys, Sandy and Chris, met while working in the Peace Corps in rural Iran. Afterwards they move to Lone Pine where they taught several subjects at Lo-Inyo School including English and Social Studies for 30 years.
Nancy and Mike Prather began their teaching careers in Death Valley before joining the Lo-Inyo staff in the early 1980's. Nancy taught primary grades until 2004 along with stating thee primary computer lab. Mike taught middle school science along with creating the annual Catalina trip until 2002. Both remain very active in the community.
The plaque to be posted in the new Science Lab reads, in part: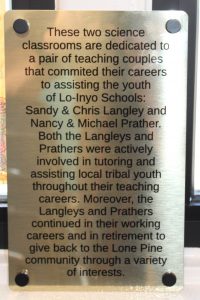 "Both the Langleys and Prathers were actively involved in tutoring and assisting local tribal youth throughout their teaching careers. Moreover, the Langleys and Prathers continued in the working careers and in retirement to give back to the Lone Pine community through a variety of interests."