Lane Closure Report for the week of 9/23/13 – 9/29/13  (CALTRANS PRESS RELEASE)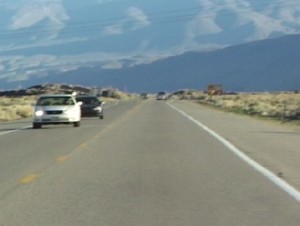 Inyo, Mono & Kern Counties – The California Department of Transportation (Caltrans) would like to alert the traveling public to be careful of workers on the Highway, to Slow for the Cone Zone and Move Over where possible.   The lane closure schedule for the week of September 23rd through September 29th, 2013 is as follows:
Mono County – US Hwy 203 – Meridian Boulevard – Miscellaneous Work – Watch out for workers.
Mono County – SR 158 – North Shore Drive  – Grinding Operation – Expect up to 20 minute delays.
Inyo County – SR 190 – Panamint Valley Road – Paving Operation –Expect up to 20 minute delays.
US Hwy 395, US Hwy 6, SR 168, SR 178 & SR 203 – Digital 395 Project  – Be aware of lane closures – Possible delays.
When approaching a lane closure the traveling public is advised to reduce their speed, observe the Caltrans signs, and watch for personnel and equipment working on the highway.
For current road conditions check Caltrans QuickMap site at quickmap.dot.ca.gov
Florene Trainor
Public Information Officer
California Department of Transportation – District 9