Lane Closure Report for the week of 10/7/13 – 10/13/13  (Press Release from Caltrans)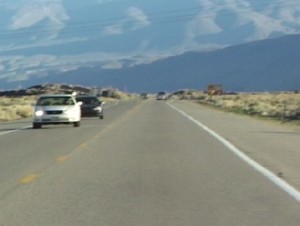 Inyo, Mono & Kern Counties – The California Department of Transportation (Caltrans) would like to alert the traveling public to be careful of workers on the Highway, to Slow for the Cone Zone and Move Over where possible.   The lane closure schedule for the week of October 7th through October 13th, 2013 is as follows:
Inyo County – Wye Road between US Hwy 6 & US Hwy 395 – Westbound lane and shoulder closed due to construction work – Watch out for detour.
Inyo County – SR 190 – 1.7 miles west of Saline Valley Rd. to Panamint Valley Road – Pavement Work – Watch out for workers.
Inyo County – US Hwy 395 – North of Lone Pine from Cemetery Drive to Moffat Ranch Road – Drainage Cleaning – Watch out for workers.
US Hwy 395, US Hwy 6, SR 108 & SR 168  – Digital 395 Project  – Be aware of lane closures – Possible delays.
When approaching a lane closure the traveling public is advised to reduce their speed, observe the Caltrans signs, and watch for personnel and equipment working on the highway.