The once vibrant Cottonwood Plaza in Bishop sits empty behind chain link fence as the weeds grow up through the black top parking lot. The City of Bishop had received paperwork toward demolition of the center, but that plan has been stymied. The land owner has declined to sign the forms.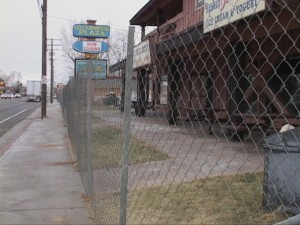 That owners are Mr. And Mrs. Lee Crosby of Bishop. How Crosby feel about the whole mess of Cottonwood Plaza? In one word, "Unhappy." Crosby says lawyers have been hired and there's now a lot of back and forth. So far, he says, there is no resolution in sight.
With the demolition permit on hold, pending his signature, Crosby said, "We didn't sign it. That speaks for itself. That's where it's at." What would he like to see happen? Crosby said he'd like to turn the clock back and have the lease run out. "We would like to see it work out," said Crosby. "We have our own interests. We didn't do anything to provoke this situation."
As for the Cottonwood Plaza, Crosby said it did fine for 30 years with plenty of tenants. He says he has no idea what master lessee Chuck Caldwell has in mind. "I've been at an arm's length," said Crosby. "My wife and I are owners of the land."
While demolition is still on the table, Crosby said that's not what he wants. He said the current plaza strikes him as it does everyone else in town. "It's an eyesore," he said, and a sad reminder of what once was.
Crosby believes it will all be worked out eventually.