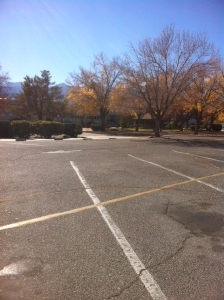 Should the City of Bishop sell some of its land to the State to construct a new court building in Bishop? Citizens will have a chance to comment on that tonight at the City Council meeting and tomorrow night at a special meeting.
Tonight's regular meeting starts at 7pm with a recognition of Bishop as a 2013 Tree City USA. A representative of the Arbor Day Foundation will recognize Bishop for its "urban forest management." Then comes the public hearing on the potential sale of City property for a new Inyo County courthouse in Bishop.
The State has proposed purchase of about one acre of City-owned land on the northwest corner of Church and Warren Streets. More than three years ago, the Administrative Office of the Courts recommended Bishop as the best place to build a $30 million court building. Initially they planned the new structure for Independence and then changed their minds.
The AOC looked at land at the corner of Spruce and McIver streets and the City property which they prefer. Some citizens have already pointed out that location of the court building behind City Hall would take up quite a few current parking spaces for downtown Bishop.
When the State suffered severe money problems, the Courts cut back on funding and this new project looked threatened, but now the State wants to move ahead.
For those who can not attend tonight's public hearing, the Council will hold a special meeting Tuesday at 5:30pm at City Hall. This second public hearing is the only item on the agenda, except for a closed session for real property negotiations between the City and the Administrative Office of the Courts.