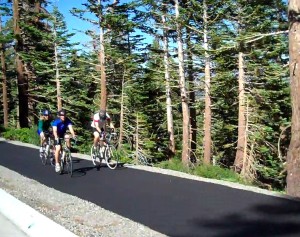 Like paved bike paths? Check out the virtually complete, new bike path along Lake Mary Road into the Lakes Basin in Mammoth.
Cleland Hoff pointed her camera out the window at the smooth path and the great views along the way. Mammoth Public Works Director Ray Jarvis said that a slurry seal covers most of the path. Still to come – some safety signaqe and striping, plus speed limit signs on the downhill side. At intersections, crosswalks and stop signs will help control traffic.
Jarvis said the entire project would be "substantially done by the end of July." Another phase, called the Lake Mary Bike Path Completion Project could wrap up by mid-November. Jarvis explained that the Forest Service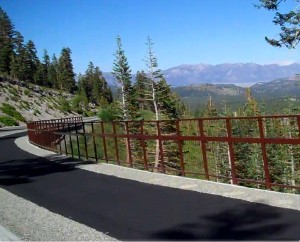 received stimulus money that will pay for the additional work.
The final phase includes a path to Twin Lakes Bridge where a new pedestrian bridge will go in and then tunnel under Lake Mary Road. The path will go behind the Tamarack cabins and tie into the Lake Mary Loop Road and into other paths. Crews will also build bus turn-outs.
Jarvis said that he and others are analyzing some six bids. The Forest Service and Town of Mammoth will work together on this. Jarvis said work may begin this month. He said it is hoped that the pedestrian bridge and tunnel would go in this summer. The Forest Service will spend $450,000 of stimulus money on this project.