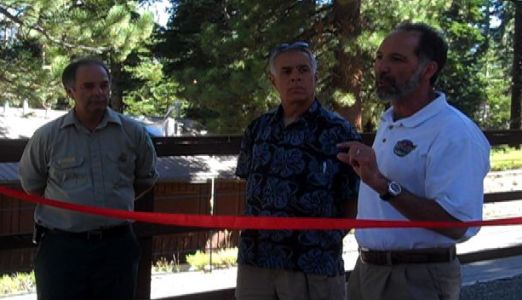 On Tuesday, a good sized crowd gathered at the corner of Lake Mary Road and Canyon Boulevard to celebrate the completion of the lower section of the Lake Mary Bike Path project.
The newly paved bike path now offers cyclists a safer route between town and the Lakes Basin. This portion of the project ends at the Twin Lakes Bridge, so cyclists and motorists will have to continue their uneasy truce until the upper portion of the trail is completed.
After many ups and downs over the decade plus that the project has been underway there was much to celebrate. Town Manager Rob Clark said the Lake Mary bike path was almost the project that didnt happen. When new development in Mammoth Lakes stopped bringing in developer fees due to the recession, the Town of Mammoth Lakes was left $3 million short for their share of the $13 million project.
Town officials went looking for money elsewhere and were fortunate enough to secure additional state money and some federal stimulus money administered through the Forest Service.
As a joint project between the Forest Service and Town of Mammoth Lakes, mayor Skip Harvey and Inyo National Forest Supervisor Jim Upchurch shared the honors of cutting the red ribbon. Harvey said the project had to be one of the best bike paths in the country for beauty and scenic value. Others said that the trail had already increased bike traffic to the Lakes Basin.
Also on hand Tuesday, were representatives from Mammoth Lakes Trail and Public access, who joined the celebration by unveiling the new signage that will help visitors navigate the many trails of the Mammoth Lakes area.
There is still more work to be done on the bike trail between Upper Twin Lake and Horseshoe Lake. The upper portion of the trail may be completed by this fall, but there is a gap between Upper Twin and Horseshoe that requires a tunnel and bridge. This portion of the trail is expected to be constructed next summer. In the meantime, the trail between town and Twin Lakes is ready to go and open for bikes.