Press release
On Friday, September 30, 2016 under stunning blue skies, the Mammoth Lakes Town Council officially opened the Lake George Road MUP and pedestrian bridge.
This $800,000 summer project in the Lakes Basin was funded by Federal Transit Authority Paul S. Sarbanes grants and was performed by Herback General Engineering.
The 1,765 feet multi-use path originates at the corner of Lake Mary Road and Pokonobe Lodge and ends at Lake George Road after users cross the 50 foot pedestrian bridge with spectacular views of Lake Mary.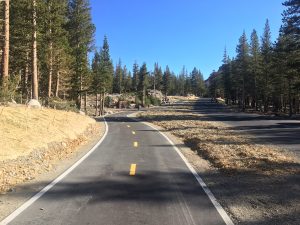 Additional improvements include ADA ramps and access improvements, wayfinding signage, minor drainage work, and associated work.
The Town thanks the many visitors of the Lakes Basin for their patience and understanding during the construction of this new recreational amenity in the Lakes Basin.