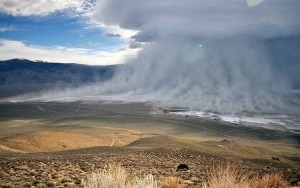 They're still doing it. The Los Angeles Department of Water and Power has, for decades, used its land ownership to manipulate life in the Owens Valley. The latest DWP maneuver cancels leases for land under three of the Air Pollution Control District's Owens Dry Lake air monitors. LADWP doesn't like what the air monitors are showing.
In the APCD board agenda packet for next week's meeting is a letter sent to Director Ted Schade from DWP Director of Water Operations, Marty Adams. The letter says "LADWP will no longer allow the use of its land to support Great Basin's biased efforts to impose sole responsibility for controlling dust in the Owens Valley on it." Adams wants the removal of three air monitors from LA land at the dry lake. He says the monitors "erroneously justify the issuance of numerous control orders."
The California Air Resources Board, in its recently issued decision, disagrees with DWP and upheld that the APCD methods and monitoring are correct and that DWP has to clean up more dust. Of course, LADWP is suing the State Air Board, along with the EPA, the APCD and State Lands Commission to get out of more dust clean-up.
In his report to the APCD board in the agenda packet, Director Schade says that the three air monitors are "used by the District in the mandatory Dust ID program and they are included in the District's Network Monitoring Plan, which is reviewed and approved by the U.S. EPA."
Schade reports to the local air board that If the District ultimately removes these monitors, it will run a network of portable monitors and/or relocate the displaced monitors "onto lands not owned by the
LADWP."