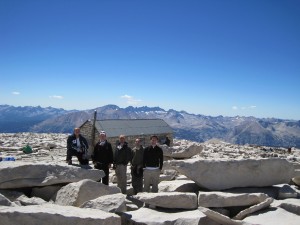 During last Thursday's mudslide, Jeff Bradshaw from Laguna Nigel called the Sierra Wave. He graciously emailed us video of the sliding mud and the big rig. That tape was the first image we had of the disaster.
Bradshaw and his friends were trying to figure out how to get to Lone Pine. They had applied for hiking permits to Mt. Whtiney last February and their climb date was Friday, August 27th.
Clearly, they made it. Thanks, guys.