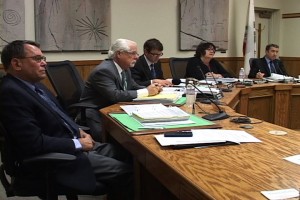 In early March, the Inyo Supervisors fretted over how to invite the Los Angeles Department of Water and Power to come to a Board meeting to talk about their Solar Ranch project across from Manzanar. DWP has accepted, and someone will show up at the Board meeting on April 15th.
During the March discussion over the invitation to DWP, Board Chairman Rick Pucci confirmed that he wanted to invite the City. He said he felt that the public and the Board should hear from LA directly.
The Board said if DWP accepted the invitation, they would send a list of questions for LA to answer. Supervisor Linda Arcularius optimistically pointed out that this could be "the first step in more public discussions."
County Administrator Kevin Carunchio confirmed that someone from LADWP does intend to come up for the Board meeting on April 15th. He said tentatively that the time of their appearance should be 10:30am. Carunchio said the appearance would involve a general question and answer session but not on environmental document questions. He called it a chance for a "good update for the Board and the public."
The Southern Owens Valley Solar Ranch project, as DWP's plan is officially called, would cover 1200 acres with one million solar arrays south and east of Independence across from the Manzanar Historic Site.
Public opposition to this project remains on high alert. The Owens Valley Committee specifically targeted that project for environmental dissent. The Manzanar Committee wants DWP's plans scuttled. Bruce Embrey of that Committee appeared at last week's press conference on solar and repeated that large-scale solar across from Manzanar would forever destroy the experience at the Historic Site. He said Manzanar was created for its desolate and isolated condition.
Still others flatly resent DWP coming to the Owens Valley for resources and leaving nothing for the people and the land.