The Los Angeles Department of Water and Power will buy another 100 Owens Valley acres. The Bell property along Oak Creek has sold to DWP for a reported amount close to $4 million.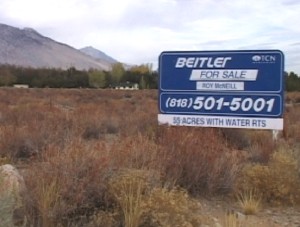 When the potential land sale came up months ago, some citizens expressed concerns about the continued loss of private land to DWP. They brought up the county's stated General Plan policy of no net loss of privately owned property. The Inyo supervisors showed no interest in pushing the issue with LA.
Scott Palamar and Jenifer Castenada of the Lone Pine area suggested that DWP could release acres if they buy more. They both pressed the Board of Supervisors to stand up for their own policy of no loss of private land.
Yesterday, Supervisor Marty Fortney said that it's been a fight to get DWP to release the required 75 acres under the Long Term Water Agreement, signed nearly 14 years ago. Fortney said LA officials have said they would be willing to release more after dealing with the 75 acres. "It will only make them mad if we hammer on them," said Fortney.
Supervisor Fortney said that the County does not have the ability to pass an ordinance requiring DWP to release land if they buy more. He also said that current economic conditions make things difficult with DWP a likely buyer of property since private parties may not have the money. Fortney added that the County does not have the power to keep people from selling their property to whomever they choose.
Meanwhile, DWP officials confirmed that an agent contacted them about buying the Reid Watson property in Big Pine, which apparently includes water rights and several ponds. DWP is evaluating the deal.