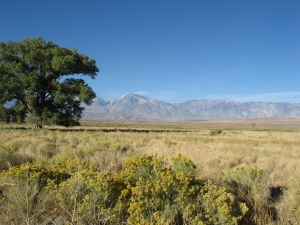 In it's official runoff forecast, the Los Angeles Department of Water and Power figures the Owens Valley at 54% of normal and the Mono Basin at 66% of normal. Before issuance of those figures, DWP sent the Inyo Water Department a letter to say they propose a 20% reduction in groundwater pumping for irrigation needs in Laws and Independence plus a 10% reduction in irrigation in other areas of Inyo County.
That letter is a request for the Inyo-LA Technical Group to evaluate conditions for DWP's irrigation reduction request which must go to the Inyo-LA Standing Committee. The letter to Water Director Bob Harrington speaks about the less than normal runoff as the reason for irrigation reduction.
The letter points to the Long Term Water Agreement which allows consideration of reductions in irrigation water for leases and for enhancement/mitigation projects in dry years.
Water Director Harrington said that the letter does not provide details of the acreage impacted by DWP's requests. He said the requested water reductions could impact ranch leases in Laws and Independence as well as mitigation projects. Besides Laws and Independence, DWP wants to cut irrigation by 10% on leases and mitigation projects in other areas of the County.
The letter does not say if the pumped water will go down the aqueduct instead of on ranch lands and mitigation measures. That is the presumption. More information is expected at a Technical Group meeting which has not yet been scheduled.
Meanwhile, LADWP is expected to issue its annual pumping plan by the end of the week.