Press release from the LADWP:
The Los Angeles Department of Water and Power (LADWP) announced today that the live Owens Valley telecast of the October 1, 2013 Board of Commissioners meeting will begin at 11:30 a.m. with a special meeting. The special meeting is procedural in nature, and is being held to orient the four new Board members on the Brown Act and City ethic rules. The regular Board meeting telecast will begin at 1:30 p.m., at which time the Commissioners will take up the regular meeting agenda.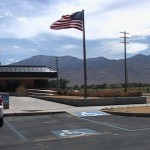 Those interested can participate from the LADWP Bishop Administrative Office located at 300 Mandich Street, Bishop, California. Doors to the LADWP Bishop Administrative Office open at 11:15 a.m. for the special meeting. Limited parking is available and participants should use the entrance on the east side of the building.
Copies of the Board agenda will be available at the meeting. Attendees can also download and print the agenda from the LADWP website at www.ladwp.com/board. If the meeting is rescheduled or cancelled, a notice will be posted in the Bishop Administrative Office and online.